(Author's note: this was supposed to go up last Thursday, but things came up and it didn't get finished. I finally had the chance to get it done today. Enjoy!)
With a large and important board exam coming up tomorrow in the doctoring half of my life, I don't have anything like enough time to do justice to the Appalachian Food Conference and its onslaught of wonderful people, great conversations, and mind-boggling food. That will eventually get its own post.
I will talk about Friday night, though, when we drove a few miles up the road from Abingdon to Meadowview, VA. Harvest Table is owned and operated by the family of Barbara Kingsolver, writer and great soul of both Southwest VA and the farm-to-table movement as a whole. The occasion was an art opening for the fabulous Amy C. Evans and her Stories from Saltville, VA series. These paintings were inspired by the Saltville Centennial Cookbook, a 1996 reprint of a great old community cookbook that featured recipes alongside pictures and writeups of the women (and occasionally men) who submitted them. Each painting is a set of visual images from one person's story–foods, tools, fabric patterns, etc.
This one was my favorite, titled Iona: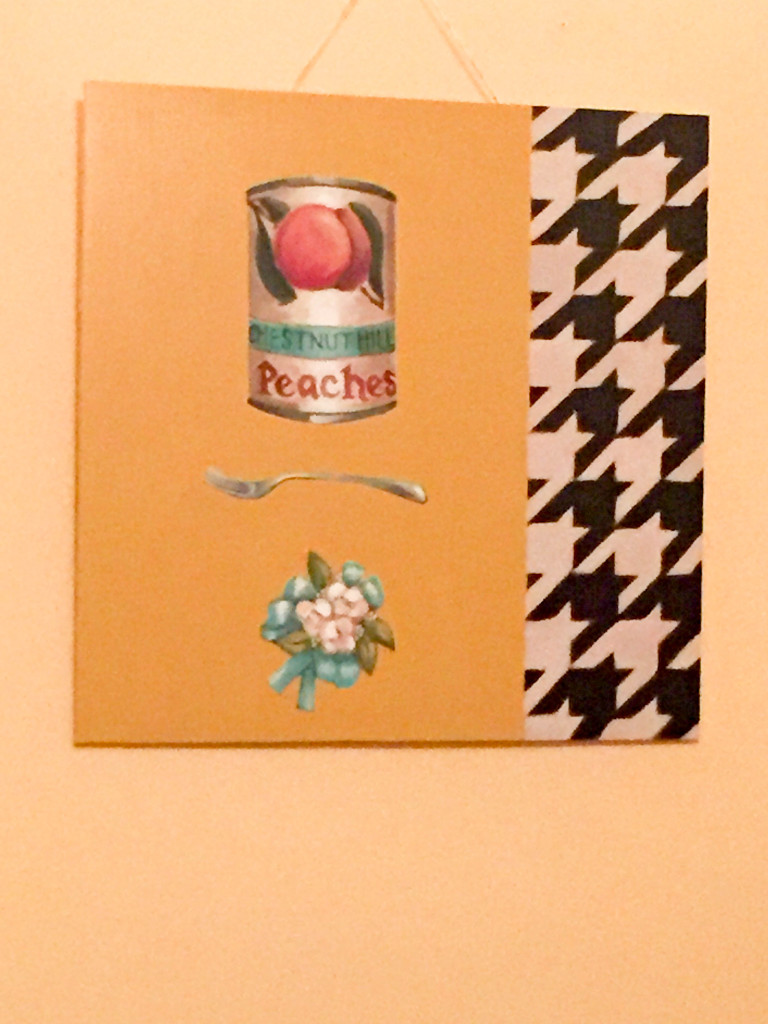 (Visit Amy's site for a better shot.) I liked this one because it reminded me of my great-grandmother, aka Granny Eunice. I can see her going to church in that houndstooth pattern, changing immediately out of it afterwards into one of her simple house dresses so she could finish cooking Sunday dinner. There were a lot of random tools in her kitchen, most of which I couldn't identify at the time and some I probably still couldn't, but I mostly remember her mixing things with a fork.
And the canned peaches remind me of Granny not just because she made a fine cobbler, but because, like most great Appalachian cooks of her generation, she wasn't afraid to open a can from the store.
The full caption of the painting is "Iona never saved food. If her children wanted a piece of cake or pie directly from the oven, she gave it to them." That sounds like Granny, too.
—
I was inspired by Travis Milton's excellent soup beans during Saturday night's dinner to make a pot of beans myself when we got home. (Cranberry, in my case, since it's what we had.) I had some kale and some kielbasa in the fridge, so I sauteed them up to go with the beans; you can cook all that in with them, but I think they keep more of their own character when you cook them separately. I also chopped up some onion and some of my pickled green beans from last week. As I put all of these things in neat piles on top of my beans, I had a revelation:
Soup beans are Appalachian ramen.
That's true in both of the ways that we think of ramen. In one sense, ramen is a cheap and filling staple that got a lot of us through lean times in college, playing the same role that pinto beans do on the Appalachian table. But consider the version of ramen well-known in Japan and now increasingly popular in the US, with hand-made noodles and deep, rich, fussed-over broth, topped with other tasty things. Back in the spring I had a fantastic bowl of ramen at Ippudo, on the edge of Hell's Kitchen in Manhattan: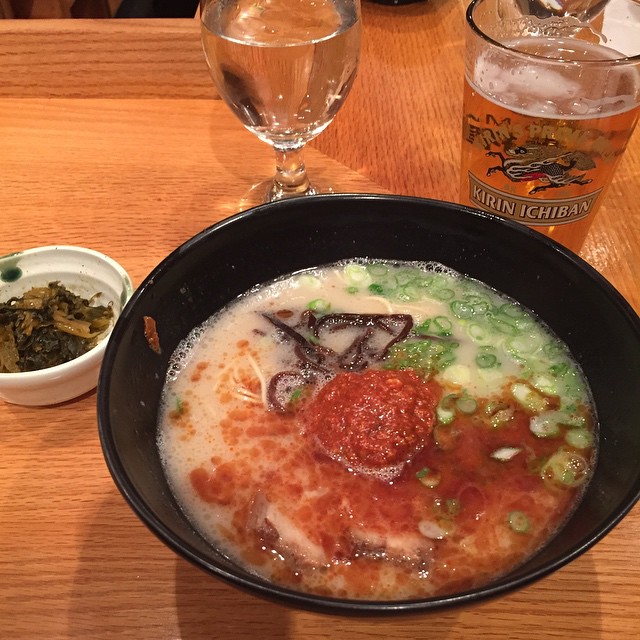 The menu includes a whole list of separately-ordered toppings for your bowl of noodles and broth; I got some pickled mustard greens and a paste made of fermented peppers. They didn't call it Japanese chow chow, but I think I will.