Just over sixteen years ago, my then-girlfriend Tamara and I spent the big Y2K New Year's Eve in New Orleans along with a big crew of my med school friends. We were packed five to a room in the Economy Motor Lodge–$55 a night even on NYE, convenient to shopping if you count drug dealers, walking distance to the Quarter if you're an idiot. They couldn't keep up with the linens for their whopping 60% capacity, so each room had exactly two towels, which were the love child of a dish cloth and a piece of 20-grit finishing paper. On the way home every one of us developed some sort of jacked-up tropical flu that left agog even the jaded faculty of the UK College of Medicine.
Needless to say, we fell in love.
We loved the Big Sleazy so much that a year later we took most of the same group back down for yet another New Year's Eve. And two years after that we took yet another NYE trek, except this time we brought an even bigger group of our family and friends, gathered them up in a corner of Jackson Square on the afternoon of the 30th, and got married.
I don't think that I love New Orleans because it has great food. I think New Orleans has great food because it's the sort of place I love. I love places where lots of cultures have collided to make something totally new that you can't find anywhere else. I love places where people aren't afraid to put some effort into having a good time, and where they take that just as seriously as they take anything else. I love places that do it big or stay in bed. That's New Orleans, and it comes through in everything from the food on the plates to the music in the air to the paint on the walls.
With a week off around NYE and a year we were pretty happy to see the end of, it was definitely time for a return to the scene. Here's the first part of our trip rundown, in no particular order:
Coop's Place
The first three or four times we went to New Orleans were during our student stipend days, so even though we're able to splurge a bit now, we're no strangers to eating well in the Quarter on the cheap. We learned that a po-boy from Johnny's will fuel the party all day and that a Monsoon from Port of Call (more later) is a bargain since it's at least three drinks' worth of booze. And we learned that if you want real Cajun cooking for cheap in the Quarter, you want Coop's.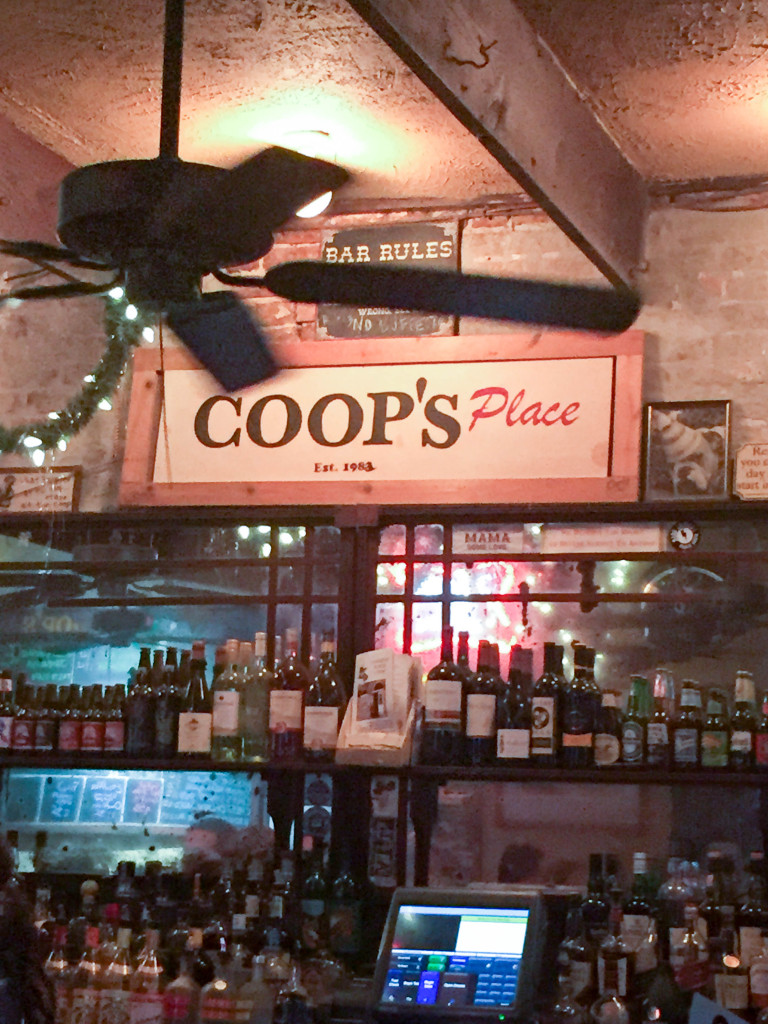 It's no secret anymore. Fifteen years ago you could pretty much walk in and grab a table even in the depths of Mardi Gras or New Year's Eve, but now there's almost always a line. Don't fear it–it moves fast. You'll have to wait a while for your food, but if you're in a hurry, you're in the wrong damn city. Besides, this is what you're waiting for: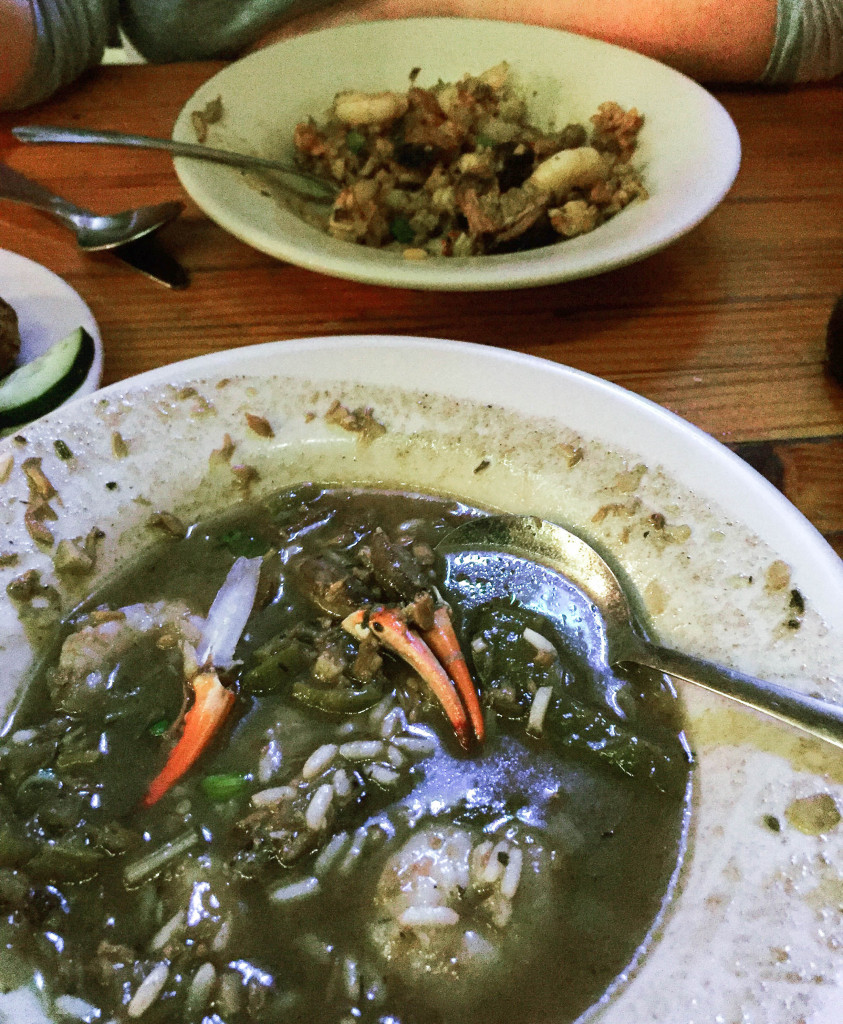 That's a seafood gumbo with extra seafood, and a rabbit and sausage jambalaya with extra shrimp and tasso. Both are pretty much perfect, with a deep base of flavor that comes from dark roux and deep browning (respectively) and enough spice to remind you where you are. And even with several Abitas to wash it down, it's hard to spend $50 for two here. That way you can save for the splurges, such as…
Commander's Palace
We wanted a blowout dress-up splurge dinner for our anniversary, ideally something old and classy. New Orleans has plenty of options in that area, but our white whale was Commander's Palace, one of the temples of Southern dining and a cornerstone of New Orleans cooking. It's the sort of place that, even if it doesn't live up to its history and reputation, you want to say you've been there. (Spoiler: it lives up just fine.)
With the Sugar Bowl and NYE both drawing crowds, my multiple calls about a reservation on the 30th were mostly met with polite Southern versions of "You've got to be f***ing kidding me".  But over a plate of happy-hour oysters earlier that afternoon, as we were debating other (no doubt wonderful) options, I gave it one more try and scored a table for two at 9:15. Woohoo!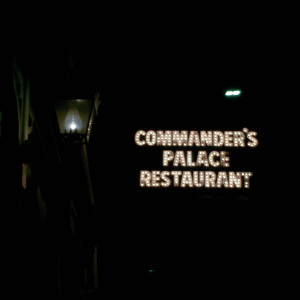 We disco-napped and dolled up and caught an Uber, arriving just slightly early. We were escorted through the kitchen to the bar to wait for our table; I wanted to stop and just spend a few minutes smelling the air, but our host was clearly not down for dilly-dallying so we had to settle for glimpses through the window as we enjoyed some fabulous cocktails.
There are two things that become apparent when you reach your table at Commander's. The first is that the place just bleeds old-school class. Most of the other tables (at least upstairs) appear to be whole families, with multiple generations, so comfortable in this setting that you wonder if any of them has ever had a moment in their lives when they were underdressed for Commander's Palace. I'm pretty sure they shower in business casual.
The second is the absolute flurry of activity by the sharply-dressed staff. While each table has a waiter, actual service is usually done as a group, and the teamwork and silent communication involved is staggering. It's pretty fascinating to watch. The service was not perfect; it was quite a while between our initial greeting at the table and getting menus, and I had to argue about an overcharge at the end. But it was as perfect as I wanted it to be, riding the line between classy and comfortable, exactly the way the food does.
Oh yeah–the food. Tamara started with a turtle soup. You can go two ways when you're cooking an exotic protein; you can cover it up so that it might as well be chicken (which isn't always a bad thing, depending on the protein) or you can bring it to the front, which is what they did here. There was plenty of spice to dress it up, but the centerpiece was a flavor I had never quite had before, which I suppose was turtle. My soup was that day's special, a veloute of crab, brie, and cauliflower. The white soup was unsullied and ungarnished, looking like a bowl of melted vanilla ice cream, but that was just misdirection for a flavor bomb. The individual ingredients all came through, but they also came together into something wonderful, once again chipping away at that old "don't mix cheese and seafood" rule. I wanted to ask for a tub of each to go.
My entree was (and here I'm glad they let us keep our menu) spicy garlic, rosemary, and sea salt crusted shrimp, with a saute of grilled eggplant, sun-dried tomatoes, and toasted garlic, with farro piccolo, creamy pecan pesto, and red pepper paint. (Whew!)
The shrimp were beautifully cooked, and the "crust" was more subtle than you'd think but still brought all those flavors. The elaborate saute underneath would have been an excellent meal on its own.
Tamara had (deep breath) a satsuma and kumquat lacquered quail, with fire roasted chili and cochon de lait boudin over smoky bacon wilted greens with Tabasco pepper jelly and cayenne spiced pistachio crumble.
Satsumas are small citrus fruits that grow in Louisiana; they don't keep or travel well, so when they come into season you see them on every menu in town. This quail was delicious on its own, but the glaze and the tasty sausage and the sauce all took it somewhere new.
(I don't feel qualified to get into the wines, but each of these entrees had a recommended glass (a dry Riesling for the shrimp, a Burgundy pinot noir for the quail) and we asked for recommendations for a glass with the soups. I suggest doing this.)
We're not big dessert-orderers, but the three-course menu special came with one, and I'm glad it did. I got the creme brulee: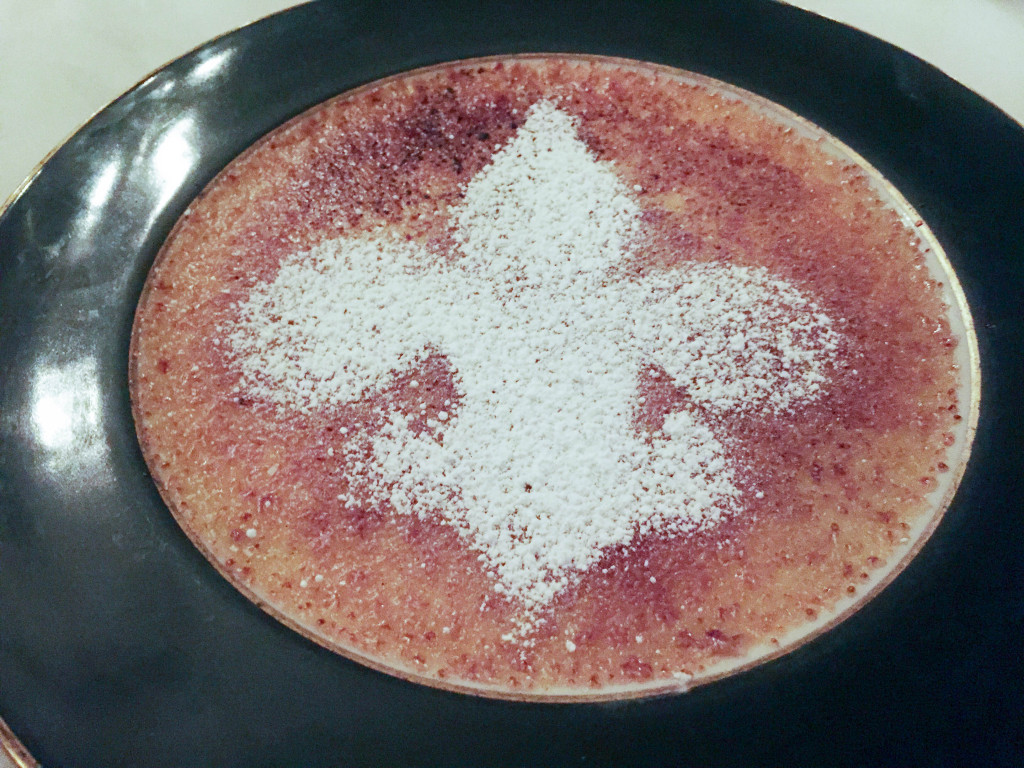 They describe this as having as much crust as cream, and it's true: putting it on a regular plate gives you about an acre of that burned sugar crust, which is the star of creme brulee anyway. You don't often see creme brulee anymore that isn't flavored with anything else, and I'm glad it wasn't–it was beautiful as it was.
But even so, the creme brulee is the wrong order for dessert at Commander's. The right order is what Tamara got, the famous Creole bread pudding souffle: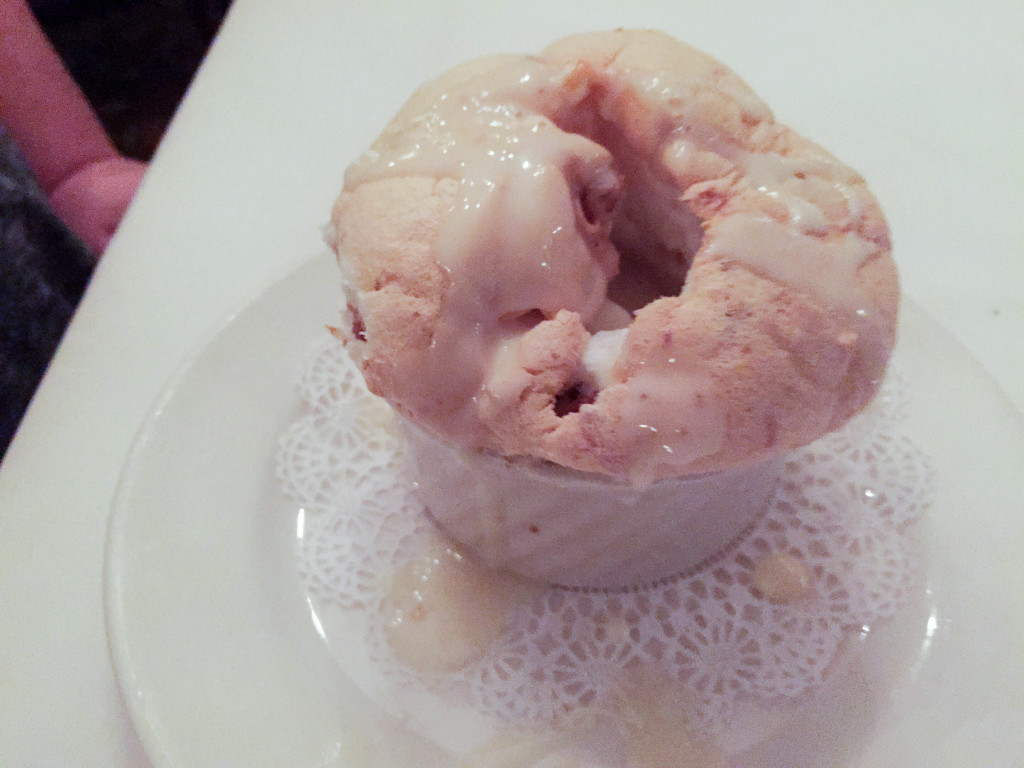 I put a lot of great things in my mouth in New Orleans (yeah, I said it), and I'm pretty sure this was the best one. Calling it bread pudding is a disservice, given the dense and uninteresting versions you find just about anywhere else. Arriving puffed up way over its ramekin, the server skillfully pops the top and fills the airy interior with a whiskey caramel sauce. All the flavors of a traditional bread pudding are there, but it melts together with the sauce in your mouth and it feels like a warm hug from a New Orleans grand dame in an expensive sweater.
Bottom line: some places coast on their reputation, and some remain icons for a reason. Go to Commander's.
COMING SOON: In Part 2 we'll visit Shaya, Dooky Chase, and Peche, along with a quick bite roundup. Part 3 will take us to the bars, with scorpion bowls, top-shelf frozen daiquiris, and many, many Sazeracs.