When we left you, Tamara and I were eating and drinking our way through a baller anniversary/New Year's Eve excursion to New Orleans. Here's Part 2 of our food roundup.
Shaya
Why is the best new Israeli restaurant in America in New Orleans? Why wouldn't it be? New Orleans became what it is because it's a place where cultures come together, and that has never stopped. Besides, if there's one place where the cuisine is more of a product of cultural collision than New Orleans, it's Israel. (This is where I stop and tell you to go buy all of Yotam Ottolenghi's cookbooks and study them carefully. You'll thank me.)
Every food-savvy friend I have has gushed about Alon Shaya's new Magazine St. outpost, so we couldn't pass it up. We made a late afternoon reservation on New Year's Eve, with plans to do it big at lunchtime and not fool with the scrum of getting a reservation later that night.
When you go (and you must), my recommendation is to stick to things you can dip pitas in. Not that the rest of the menu isn't awesome, but that's really where they shine, and if you keep ordering things to dip pitas in they'll keep bringing you THOSE PITAS. They're perfect, and warm from the wood oven, and they come to the table still inflated. If I lived nearby I'd be tempted to visit often and order a cheap side salad and fill up on pitas, the way I did with the breadsticks at Fazoli's when I was an undergrad.
The baba ghanouj was the best I've ever had (and mine is pretty good). Lutenitsa, a Bulgarian puree of roasted pepper, eggplant, garlic and tomato, was new to us, but it's going to be a staple at our house when eggplants start coming in. The pickles were perfection. And the hummus was the Platonic ideal of hummus, topped with a delicious lamb ragu and some crispy chickpeas. I'm not sure our gullets knew what to do with all this plant-based matter at this point, but we cleaned every bowl.
We also ordered a sabich–a pita stuffed with fried eggplant, preserved mango, egg, pickles, and tahini, served with fries. It was delicious, but we really just didn't have it in us. By that time all those pitas had expanded and we ended up staggering back to the car with about 80% of it. Sure was good later that night, though.
Dooky Chase
There are a lot of great cooks in New Orleans, but how many of them have inspired a Disney princess?
(Suck on that, Emeril.)
It was 1946 when Leah Chase took over the kitchen at her husband's (and his father's) namesake restaurant, and long before she was Princess Tiana she was the Queen of Creole Cuisine. This temple of Southern soul cooking was an important meeting house for both local and national civil rights leaders in the 60s, and photos of Presidents Obama and George W. Bush digging in while a beaming Ms. Leah looks on proudly hang among the artwork. The family still runs the place, and Ms. Chase is still kicking at age 93, though sadly she didn't appear to be in the restaurant while we were there. (It was New Year's Day; I prefer to think she partied a little too hard the night before.)
It's hardly an undiscovered gem; there was an hour wait for a somewhat extravagantly priced New Year's Day/pre-Sugar Bowl lunch buffet. The line was roughly half tourists and half locals, one of whom I'm pretty sure was Ellis Marsalis.
The buffet menu tells you a lot about the place:
This is the essence of Creole cuisine–a whole lot of what we think of as Southern, plus some Caribbean touches (Congrie, one of the Caribbean's many names for beans and rice) and some French influence (Farci). Once again, cultures coming together.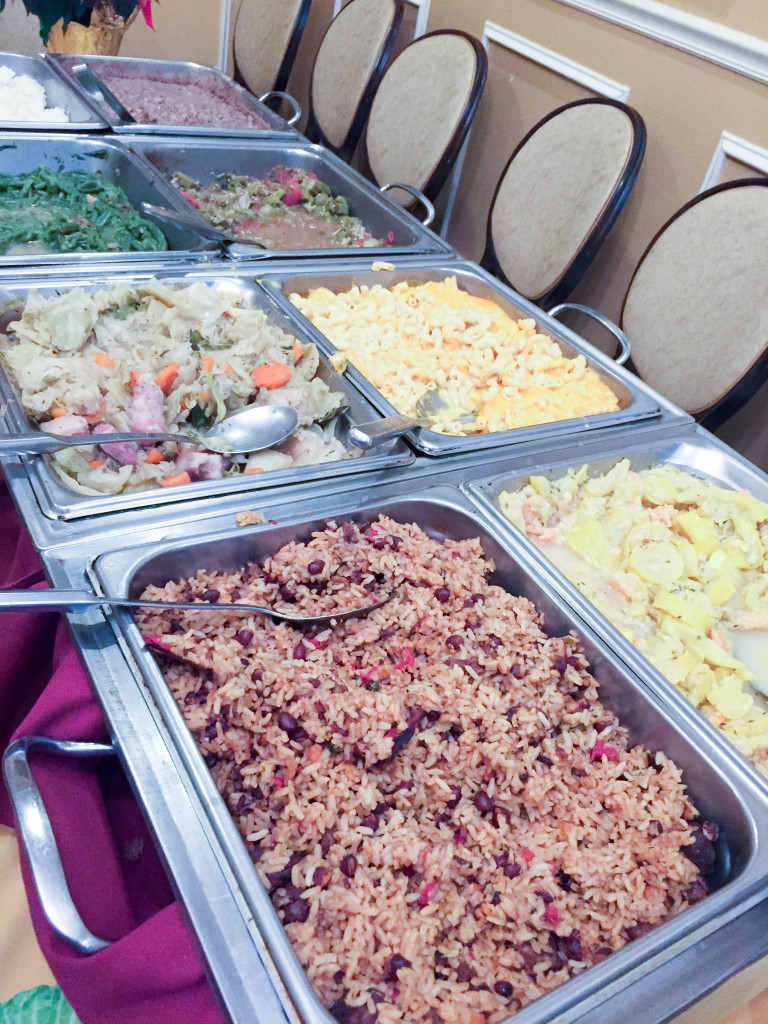 It was all fantastic, but the winners were the gumbo (a slightly more citified version than we had at Coop's, lighter and more sausage-forward), pork loin, catfish, congrie, and yams, plus a shrimp and summer squash dish not on the menu that our slightly irritated waitress told me is called "shrimp and squash". ("That makes sense," I said.)
Go for the history, stay for the magnificent food.
Peche
It's hard to imagine going to New Orleans without a stop at Cochon, or at least Cochon Butcher. But we had hit up Donald Link's flagships on our last several trips, and with so many terrific places to eat we hated to double back. Fortunately we hadn't yet tried Peche, Link's seafood-focused joint a few blocks away.
We had plans for dinner there on New Year's Day, but we had the chance to go to a Disney-themed drag show, and who is going to pass that up? (No one I care to know.) So we put it off until Saturday lunch. It's a bit of a walk from the Quarter, but at this point in the trip we needed all the exercise we could get.
We started with some truly magnificent hush puppies.
For the first round we got a smoked tuna dip and one of the daily preparations from the raw bar–smoked drum with pumpkin, toasted pepitas (pumpkinseeds), and chili aioli.
The tuna dip was a simple thing made magnificent, with flavors hitting you at different times–the tuna, the rich aromatics, and a nice long hit of spice. The cold-smoked drum was perfect, smoked and dressed lightly enough to let the fish be the star.
In fact, we enjoyed the drum so much that we ordered the other two daily dishes from the raw bar: a tuna sashimi with red mustard greens, radish, and sesame seeds, and a mahi ceviche with papaya, mango, and popcorn.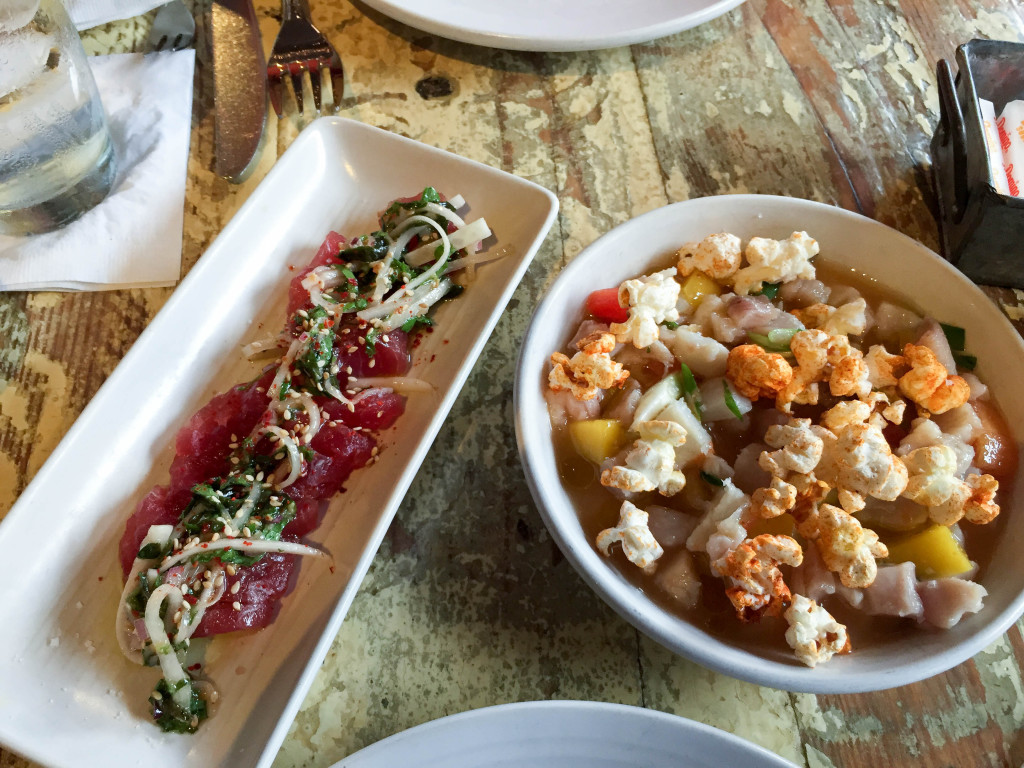 It's hard to believe that this spectacular tuna sashimi was our least favorite thing we had here, but that's just how good everything was. The ceviche was our favorite. We love ceviche in theory but Tamara's aversion to cilantro means we don't get to order it often, so we were thrilled to find that day's version was cilantro-free. And who knew that what ceviche needed was popcorn? When we were finished we had zero shame about turning up the bowl to drink the leche de tigre–the sweet, fishy leftover juice, considered a hangover cure and aphrodesiac in Latin America. Who couldn't use a little of either in New Orleans?
Incidentally, we knew we were going to love the place when we looked at the non-alcoholic beverage menu and saw our beloved Ale-8-One on the list. I'm not sure I've ever seen it on a menu outside Kentucky. (They also had Buffalo Rock Ginger Ale, a Birmingham product that we discovered and fell in love with on this trip.)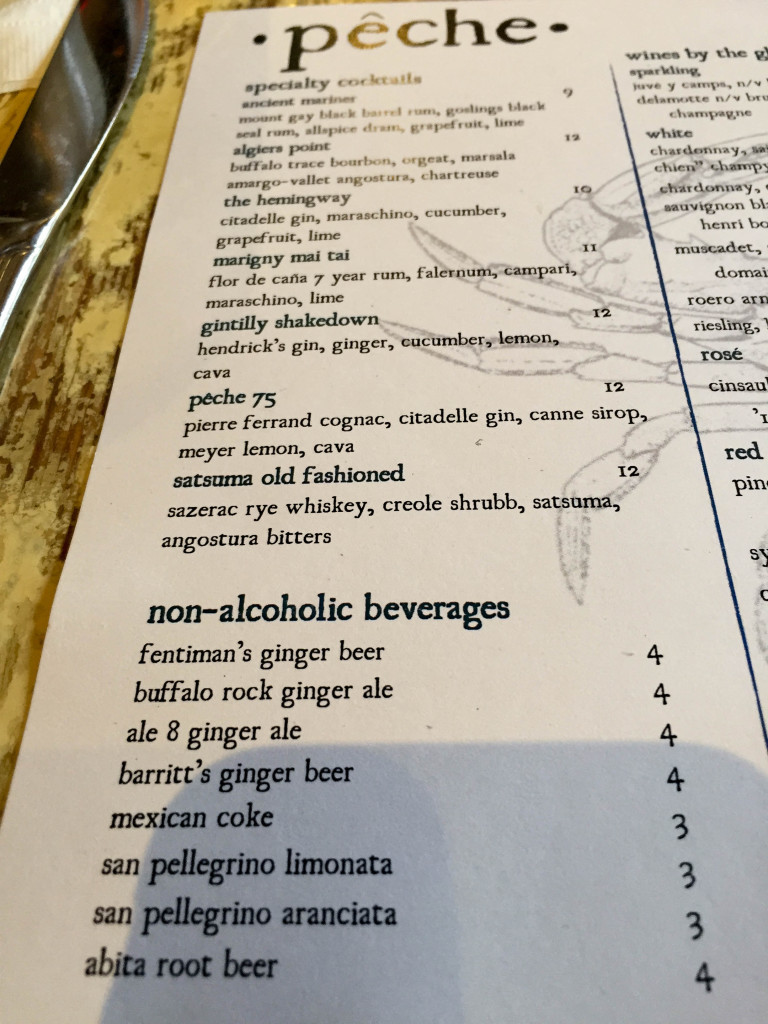 Quick Hits
A roundup of the rest:
—Bayona is still fantastic. I had lunch there last time when I was solo and had the famous smoked duck, cashew butter, and pepper jelly sandwich, and I wanted Tamara there with me because I thought it would be her favorite sandwich ever. So I took her this time, and I was right!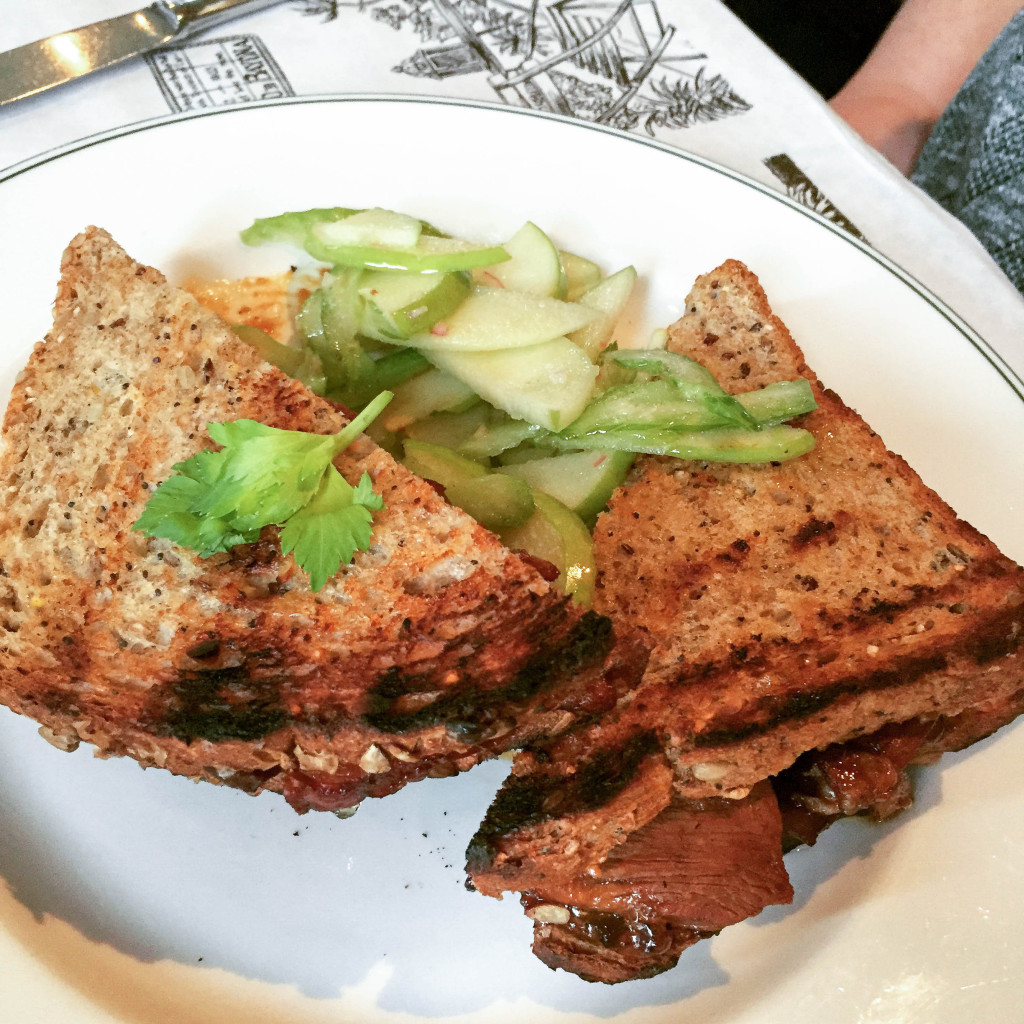 –It's a tough year in the oyster business, so the raw ones at Luke's famous happy hour have gone up from 50 cents to 75 cents each. Still, $9 a dozen is a great price for some spectacular bivalves. Add in the half-price drink menu (including a wonderful French 75) and there's no good reason not to pregame here at every opportunity.
–"Sweet potato gaufrettes with bone marrow butter." I had no idea what a gaufrette was, but seeing that description on the menu during a happy hour stop at Meauxbar on Rampart, there was certainly nothing else there to object to. It turns out that it's French for "waffle chip":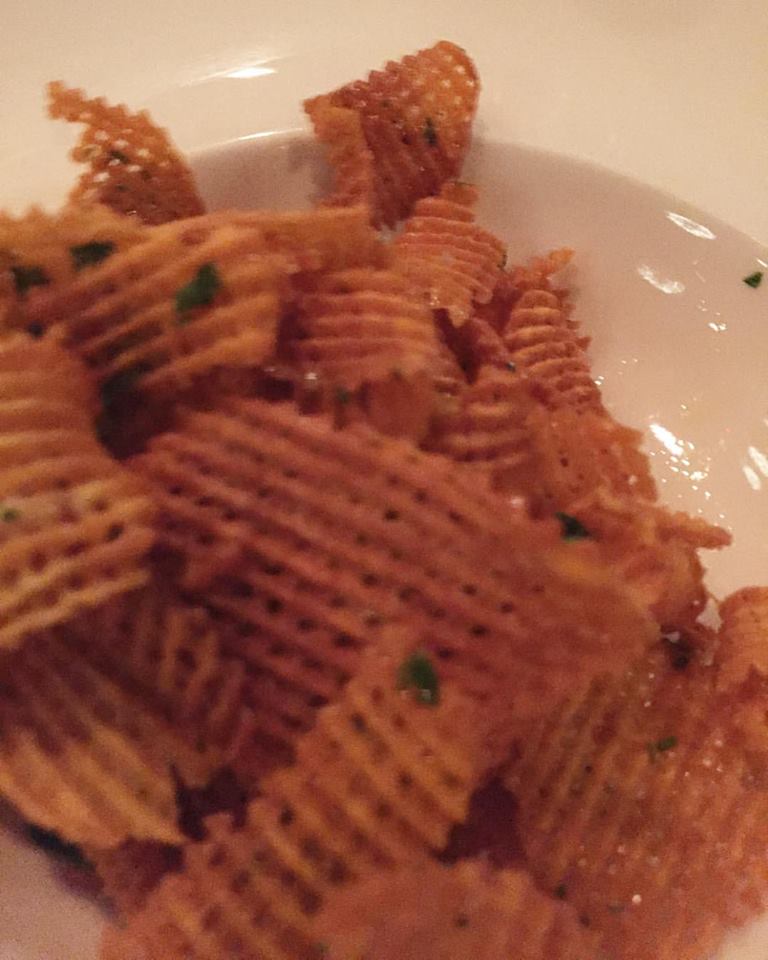 This was one of the best bites we had on the trip. Between this, the excellent drinks, and our very friendly bartender (Brooke), this is a place we absolutely plan to get back to for a full evening next time around.
–Chargrilled oysters are an iconic New Orleans dish, so I was surprised to read that they only go back to the mid-90s. In other words, I've been coming to New Orleans for almost the entire history of the chargrilled oyster. But a good idea is a good idea even if it isn't an especially old one, and oysters broiled with garlic butter is a fantastic idea. We bypassed the lines at Acme and That Place Across The Street From Acme and hit up Mr. Ed's Seafood and Oyster Bar a couple of blocks down Bienville. It was not, as we hoped, run by a talking horse, but it was a fine place for a mid-afternoon dozen.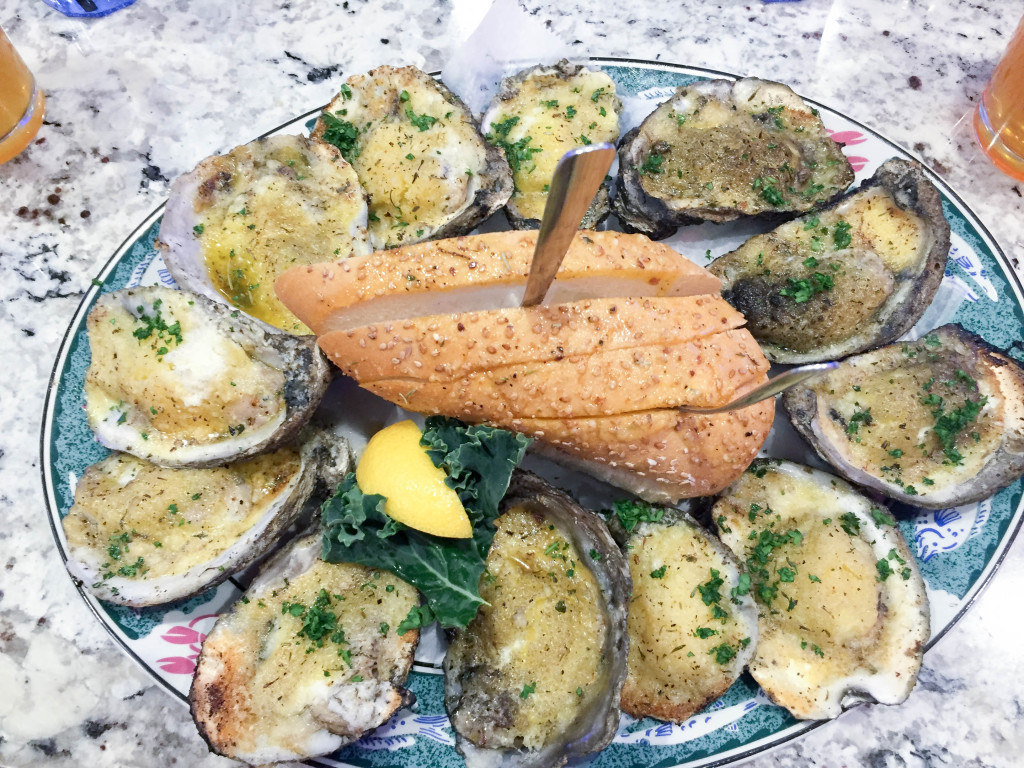 –Despite being Confederacy of Dunces fans, we never actually had a Lucky Dog during our wanderings of the Quarter. We did, however, feel the need for a frankfurter on a couple of nights. After the fleur-de-lis drop on New Year's Eve we found ourselves at Hott Diggity Dog, just outside the fray on Tolouse St. For a first bite of 2016, we could have done a lot worse.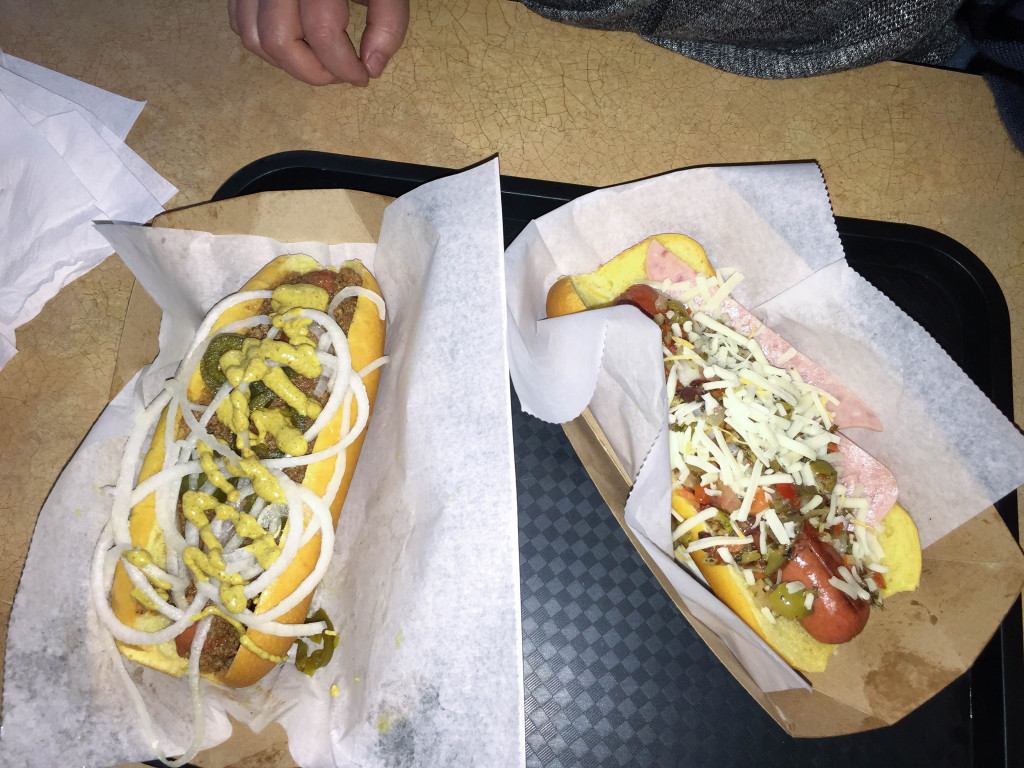 A few nights later we wandered over to Frenchman St. and had a bite at Dat Dog. I'm sad to say I don't remember that much about it, except that 1.) it was delicious, and 2.) this mural, which seemed to sum up our entire trip in a beautiful and succinct way.
Coming soon: in Part 3, I'll talk about the bars. Oh, the bars.